Avocado Ice Cream & Strawberry Cheesecake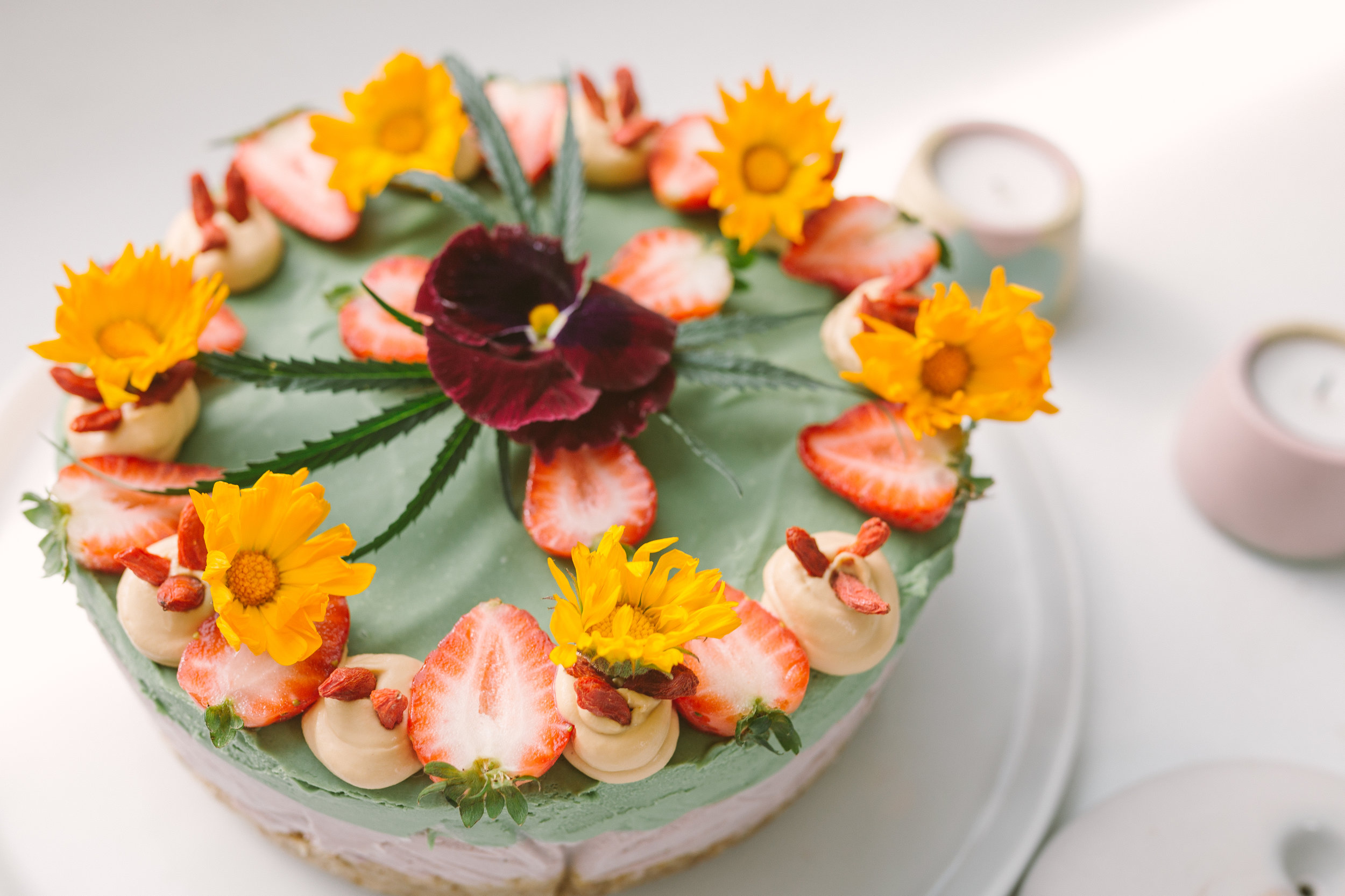 Last week, I had the opportunity to come together for a Women of Weed Collab here in San Francisco. The theme of our dishes were light infusions with a focus on superfoods- right up my alley. The superfoods that I wanted to highlight in this raw vegan cake were goji berries in the strawberry layer and chlorella in the avocado layer. My focus for building this cake with these superfoods were celebrating the idea of having "cake for breakfast" with beautifying superfoods, perfect for a women of weed bruncheon.
 
Avocado Ice Cream & Strawberry Cheesecake
(Yields 12 slices)
Crust Ingredients:
-1 ½ cup almond flour
- ½ cup coconut flour
- ¼ cup coconut sugar
- ¼ cup melted coconut oil
- ½ tsp cinnamon
- ¼ tsp cardamom
- pinch of salt
- ¼ tsp vanilla
Add all dry ingredients into a blender or food processor, pulse until mixed well. Add vanilla and coconut oil, process until a crumbly dough forms. Press dough onto a parchment paper lined pan. Place in freezer.
Strawberry Cheesecake Filling:
-2 cups soaked cashews (soaked for 6-8 hours)
-3/4 cup fresh strawberries
-1/2 cup melted LEVO infused coconut oil
-1/4 cup maple syrup
-1/4 cup goji berry powder
-3 TB lemon juice
-1 tsp vanilla extract
-pinch of salt
Blend cashews, strawberries, lemon juice, vanilla and maple syrup into a high-speed blender. Add melted coconut oil and goji powder. Blend until a smooth consistency forms. Pour cheesecake filling on top of frozen crust. Replace back into freezer.
Avocado Ice Cream Layer:
- 1 can coconut cream
- 2 ripe avocados
- ½ cup honey
-3 TB lemon juice
- 3 tsp chlorella
Blend all ingredients inside of a blender, layer on top of strawberry cheesecake filling. Place back in freezer for 6-8 hours.
To serve:
Let cake defrost for 20-30 minutes, pull cake from pan and cut with a warm knife. Place back into freezer to save cake for up to 2 weeks.
*Photography by Monica Lo of Sousweed